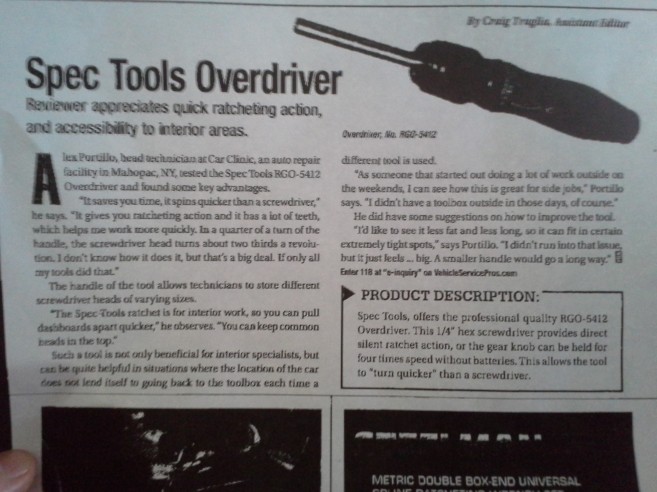 Here's text from the article by CRAIG TRUGLIA that was published in Professional Tool & Equipment Magazine:
Alex Portillo, head technician at Car Clinic, an auto repair facility in Mahopac, NY, tested the Spec Tools RGO-5412 Overdriver and found some key advantages.

"It saves you time, it spins quicker than a screwdriver," he says. "It gives you ratcheting action and it has a lot of teeth, which helps me work more quickly. In a quarter of a turn of the handle, the screwdriver head turns about two thirds a revolution. I don't know how it does it, but that's a big deal. If only all my tools did that."

The handle of the tool allows technicians to store different screwdriver heads of varying sizes.

"The Spec Tools ratchet is for interior work, so you can pull dashboards apart quicker," he observes. "You can keep common heads in the top."

Such a tool is not only beneficial for interior specialists, but can be quite helpful in situations where the location of the car does not lend itself to going back to the toolbox each time a different tool is used.

"As someone that started out doing a lot of work outside on the weekends, I can see how this is great for side jobs," Portillo says. "I didn't have a toolbox outside in those days, of course."

He did have some suggestions on how to improve the tool.

"I'd like to see it less fat and less long, so it can fit in certain extremely tight spots," says Portillo. "I didn't run into that issue, but it just feels … big. A smaller handle would go a long way."

Product Description

Spec Tools, offers the professional quality RGO-5412 Overdriver. This 1/4" hex screwdriver provides direct silent ratchet action, or the gear knob can be held for four times speed without batteries. This allows the tool to "turn quicker" than a screwdriver.
You can read this article in its entirety on VehicleServicePros.com here.